Promoting Innovations For A Better World
Techplus Brings together ITDM's for Must Attend Technology Events
Techplus conducts Knowledge Forums & Conferences right from the proposal up to the delivery. We make a number of innovative suggestions at the planning stage and the main focus is to deliver ROI.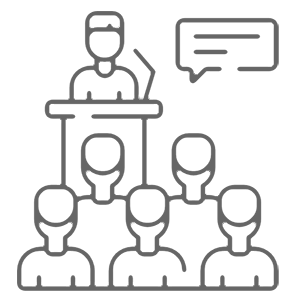 Forging meaningful connections at 50+ events annually
Business-to-business (B2B) marketing has undergone massive change in recent years. At Techplus Events we've helped Tech Marketers in the event marketing & Management arena, executing Conceptualization, Content Strategy to end to end Project management for global events. Our B2B clients retention is almost 100% because our account teams are specialists in solving their business challenges.

Techplus is a leading provider of B2B event and experiential marketing services. We have many client relationships that span since decades because we continue to innovate, we continue to evolve, and, most importantly, we continue to deliver.

Research
Data Integration
Strategy and Planning
Audience Acquisition
Sponsorship Sales & Partner Management

Design
Conceptualisation
Creative Design

Create
Content Creation
Fabrication
Production
Customer Experience Center

Deliver & Measure
Event Production
Management
Live Streaming
Event Measure/Report
PARTNER EVENT
Marque Event
Indian ISV Awards & Knowledge Forum
ITPV Partner Leadership Awards
itVARnews Most Impactful Tech Leaders
CUSTOMER EVENT
Marque Event
CXO Summit
CIO Awards
Healtcare Summit
CDO Summit
CUSTOM EVENTS
ABM based CXO | CIO Round Table | One-On-One
Delegate acquisition from ABM list
Training Program
Product Launch
ABM based Partner/ISV Round Table
Content & Event Conceptualization
Key Speaker Acquisition
Startup Events
Testimonial
See Why Leading Techmarketers love working with Techplus
LeadXchange performance on CWS (Citrix Workstation Station) was excellent, I Suggest LX should be a part of your Lead Gen Annual Calendar
LeadXchange performance on CWS was excellent, I Suggest LX should be a part of your Lead Gen Annual Calendar
The conversion rate we're seeing from Techplus Lead Gen is impressive for Thinkpad series
Meet Our Brands
TECHPLUS owned and operated B2B websites are built to help buyers and researchers make informed decisions








We're interested in talking
about your business.