Partner Marketing
Techplus Provide a Complete Eco-system for Partners.Our Channel wing has been in the business of building Partner community for a decade. We work as a consultant and provide customised solutions which include Business lead generation, Content creation & seeding, Research & survey, Demand generation within Enterprise and Intend data within SME through Geocentric approach, organising customised conference.Our endeavour is to design and implement solutions for a wide variety of business processes, tailored to meet the individual needs of Partners Our expertise lies in delivering the entire value chain for Partner MDF. Over these years we have tried to give complete media exposure and support to many brands including Microsoft, AWS, Cisco, IBM, Intel, HPE, Citrix, Palo Alto, SAP, Brocade, DellEMC, Oracle, Hitachi, Veeam Software in the process have had an opportunity to observe the workings of the industry very closely.
Channel partners plays a very critical role in the entire ecosystem, You are the real agents of Digital Transformation, You are the lifeblood of the Entire ecosystem, You architect the entire solution, you're the people who talk about the true benefits of the IT, you are the people who bring customer feedback to the vendor and help them in actually shaping the product so you are a very important bridge between a customer and a vendor so without you the entire ecosystem is incomplete.

- Anuj Singhal | Founder, Techplus Media
Techplus Partner brands include
Largest Channel Magazine with 9 Regional Edition. We Provide you within an extensive reach within SI's, MSP, VAR, VAD, Cloud Born, Shadow Partners and ISV.
9 Edition include
Maharashtra
Gujarat
North
Uttar Pradesh
Madhya Pradesh
Eastern
Northeast
South
Bihar & Jharkhand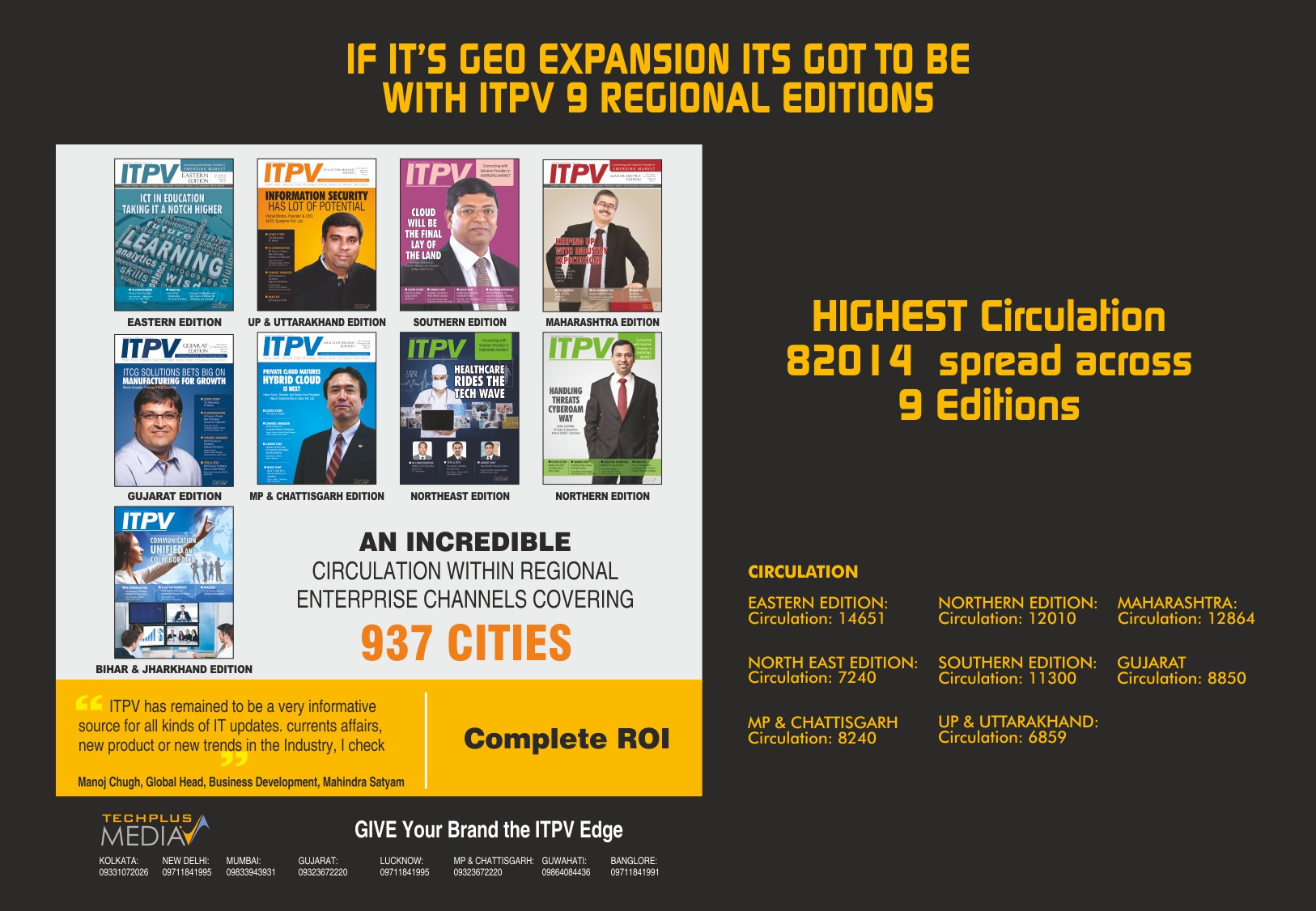 Why ITPV?
With 15 years track record of 4200+ Clientle, 135000 + Advertisement campaigns, 250000 Channel Marketing initiatives and 100000+ qualified Channel Sales Closer, ITPV with 9 Editions is the single largest magazine to cover 937 cities in India and is the #1 Marketing enabler for Channel businesses.
ITPV conduct one of the Biggest Partner Event – ITPV Partner Leadership Awards with Regional Chapters, The Core Objective is to recognize the efforts and innovation of Partners spread across Geography…
Testimonials
ITVARnews is an active online Enterprise News portal under Techplus Media House, that covers Strategy, New Products, and Technology Trends for SME, Enterprises, Technology Integrators and IT Professionals and provides round the clock news, reports, analysis and case studies of IT.
ITVARnews aims to be the two-way platform for the Technology Enablers and Technology Adapters.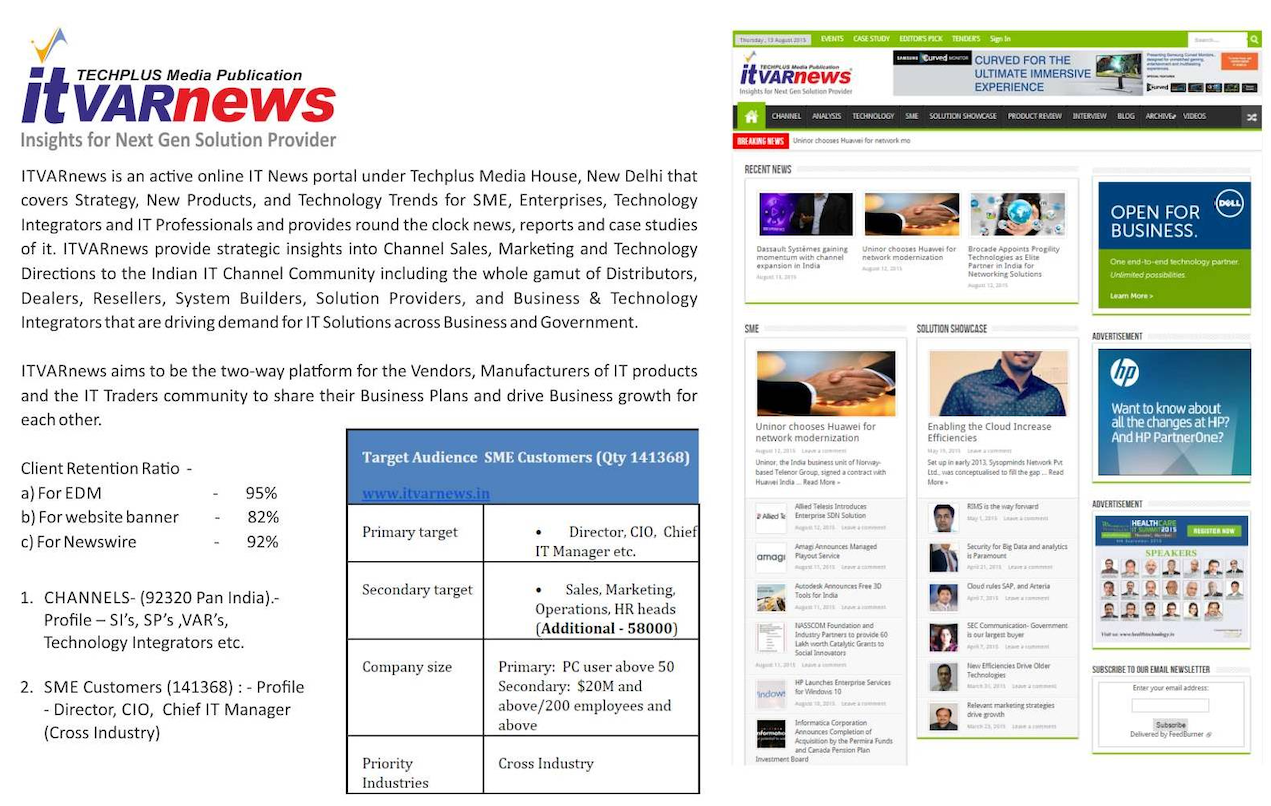 TMR was established as a Channel market research company in India in 2010 with the objective of providing quality Channel services to market research and consulting companies at a significant cost advantage.
We undertake all activities which encompass the marketing research process covering Survey Development, Survey Programming, Sampling, Data collection, Data Processing, Data Analysis, Secondary Research and preparing presentations. These services are offered as individual products or in combination with others. This enables our clients focus on their core competencies, while we efficiently manage their other noncore research activities.
Testimonial
Techplus has become an important information source, focusing on various aspects of the IT channel community, with extensive coverage on products, technology, channel concerns and vendor policies. It is a vital meeting place for communities of similar interests to get together and resolve issues. We want to congratulate you for playing a critical role in knowledge sharing.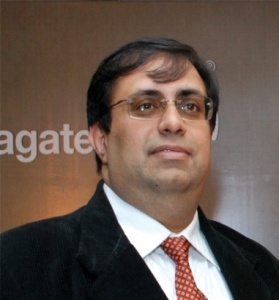 Country manager - Seagate, India and SAARC